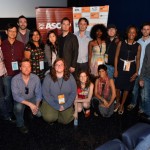 I was just at the Los Angeles Film Festival to screen this year's Film Independent Project Involve shorts which we started developing in January. It's a whirlwind process for the filmmakers who go from treatment to the big screen in just under 6 months. The theme this year was cultural celebrations and the writers explored an amazing array of ideas including Day of the Dead, sitting Shiva, a same sex wedding, Diwali, a Korean funeral, a family reunion and the 4th of July. As the finished films, all under 10 minutes, played on the big screen I was reminded of the power of short films to pack an intense emotional punch.
I love shorts and they're finally being given their due. They're screened at every major festival from Cannes to Slamdance, can be entered in several on-line competitions and are being distributed internationally theatrically. One of the reasons for this sudden explosion of short films is that digital technology and access to the web are creating a perfect storm that dovetails beautifully with shorts. Clearly audience's viewing habits are changing and more and more people are going to youTube, Vimeo, and iTunes for content which they watch on their smartphones, tablet or computer – there's even an App that streams short films from top festivals. Smaller scale narratives are perfectly suited to these devices as they offer a brief burst of entertainment without the time investment of a feature film.
With this kind of exposure short films can launch a feature film career, help filmmakers gain recognition in the industry, hone writing and directing skills, provide a platform for a feature script, and give filmmakers an opportunity to experiment with new ideas, stories or cinematic techniques. This is a great time for short films and I was honored to be part of helping these very gifted Film Independent Project Involve filmmakers bring their stories to the big screen.